Looking for recover a long lost smile? If the whole upper or lower set of teeth need to be replaced, then an All-on-6 might be for you.
This procedure is a solution for those that not only want to boast a full smile, but also that have limited bone tissue. Here in Los Algodones we offer you the best service, prices and attention if you are interested.
What is All-on-6 about?

An All-on-6 is a dental implant system meant to replace a full set of teeth.
This technique dates back to the 80s and simplifies the whole procedure. Usually the patient would have needed to get individual implants which turned out costly and time consuming.
So through an All-on-6, where all the arch is set on six implants, not only is the time spent lessened but also less resources is needed. Moreover, the healing time needed is also decreased as less space is needed for this procedure to take place.
Of course, you are needed to brush and floss like a normal person. This keeps your implants from staining and wearing down!
How is the procedure carried out?
First a clear view of the working area is required. For this Los Algodones dentists scan and get a good look with an X-ray. Then everything is prepared for the actual procedure.
The implants required by the All-on-6 are placed into the jawbone. These work as anchors for the denture to be attached to.
All-on-6 and All-on-4 procedures use implants made of titanium alloy, which integrates into the bone safely.
Differences with the All-on-4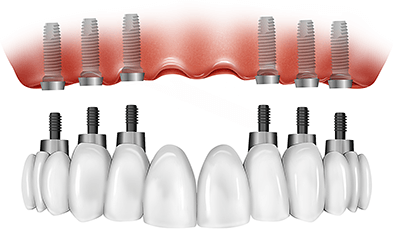 Both All-on-6 and All-on-4 procedures boast the same similarities. They are excellent solutions, they take about 2 to 3 hours, they are performed under general anesthesia, and both use the same kind of implants. So what is the difference?
Like the name implies, it is the number of implants used. Both All-on-6 and All-on-4 are tailored in such a way that they offer top quality and stability. Naturally, All-on-4 is easier on the patient as it only requires four implants.
Benefits of All-on-6
Teeth on the spot. After the procedure is done, the patient is able to wear their new set of teeth.
Eating is made possible. These dental implants work just like normal teeth. Tasks such as eating and speaking are possible again without repercussions.
Less time needed as they are all together. This not only decreases the amount of sessions needed at the office, but we are also talking about healing time.
Stability and quality even if the bone tissue is lacking. The implants are placed in strategic areas in order to support and anchor the implants.
Cheaper prices than getting individual implants. Less work and time is needed to fulfill this procedure.
Disadvantages of All-on-6
Sometimes not every patient is qualified. Some health issues and severe lack of bone might make impossible to give a successful All-on-6 treatment.
It requires special tools and knowledge to perform. The complexity of this operation usually needs more than one dentist to carry out.
Although it requires less resources, it might still be costly.