Today, we shall be talking a bit about the All on 4 procedure. Currently, All on 4 is one of the most efficient and quickest procedures in order to get a full set of teeth back. Ever since it was developed, it has done nothing but give people a new opportunity to smile again.
What it does, benefits, how it  is done, all of that and more right here. So if you are looking into this procedure or are curious in getting one, you are in the right place!
What is it about
The All on 4 procedure seeks to replace all of the patient's teeth with only four dental implants. These four implants will be in charge of supporting the dental bridge that will give you a new set of teeth.
This applies for either the upper or lower jaw of the patient. With the advanced technique used, the four dental implants are more than enough to support the dental bridge. Not only will you have functional teeth, but it is fast too!
It is totally stable and has been in use for about two decades with astounding results. And upon completion of the procedure, you can use them right away. So there is no waiting time until you get to have a full set of bright teeth to show.

Benefits of All on 4
You are able to wear your new set of teeth from day one. If a temporary prosthetic is issued, you will be able to wear them from day one! It is more affordable than the All on 6 and All on 8 procedures, as it only requires 4 dental implants.
Shorter time spend in the treatment as well as healing. This is because less dental implants are used.
Very durable, stable and strong due the dental implants being made of titanium. It does not wear down and is used in many other types of surgeries. Titanium has no problem integrating with the bone!
You can eat, speak and smile as if they were real teeth, and they look exactly like them, too.
Unlike dentures, they are not removable. As such, there is no fear for them to fall off!
Low maintenance, as you just have to brush them like they were real teeth. That and a visit to the dentist at least once a year.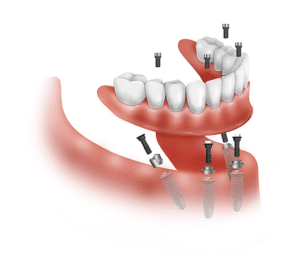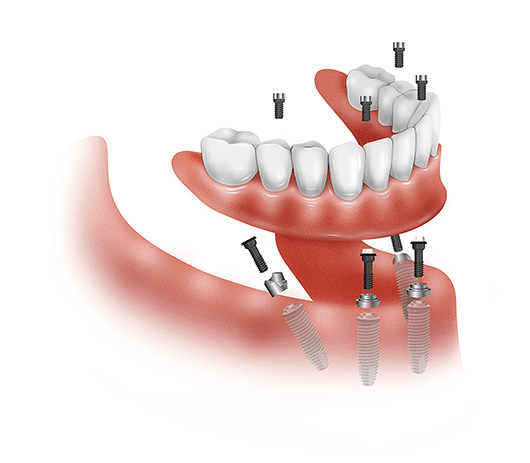 How the procedure carries out
First, your dentist will make the necessary exams in order to know if you are eligible. This is important because a good understanding of the patient's bone structure is essential. After this, they will talk to you about the procedure as well as clear all the doubts you may have.
Then, on the day of the procedure, you will be sedated, of course, to avoid all pain. Then the four dental implants will be placed in your mouth. Two vertical ones in the front and two tilted 45° on the back. This will make the procedure more stable and the healing better.
And that is it! Of course, the whole area is cleaned and you are told to eat soft foods and avoid certain habits. This is to make the healing process go as smoothly as it can. Once everything is clear, you will be able to have your permanent prosthetics in no time.
If you are interested in the All on 4 procedure, you are more than welcome to get a free estimate here. Here in Los Algodones, Mexico reside the best dentists together with the best prices compared to those in Canada and the States, while also being fluent in English! If you have any doubts, or even just curiosity, you are free to give us a nudge.