The All on 4 dental implant implants is a treatment often asked by our patients. This is a popular Los Algodones because it is the ultimate dental implant procedure. Compare the prices in the US and it is far cheaper here. It gives the patient a permanent fixed denture, so it can be a really nice option for patients who wants teeth replacement. Teeth loss is not the end with this magnificent procedure affordable at Dental del Rio
Before I jump into subject, if you want to read more about these kinds of topics, let a coment down at the end. We like to read your comments guys and improve our content in this humble blog thanks to your feedback, it helps us grow and reach more people. Remember you can use the contact form above and the phone number to ask any questions or schedule a dental appointment as soon as possibl,.
What can you expect from the All on 4?
The All on 4 is a dental procedure that uses 4 screws per jaw will support a full denture. This full denture is fixed permanently so you can forget about partial and traditional dentures. Thanks to this, you can expect the implants can be sturdy enough to support a full denture. This is an important strong point as adding more than 4 implants add more weight to the jaw, being uncomfortable and dangerous in the long run for the aptient.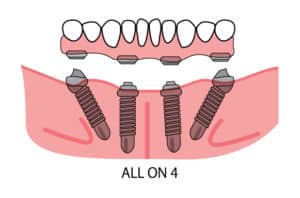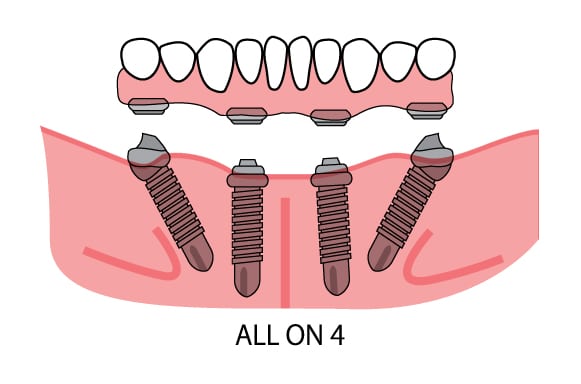 The patient begins with a CT scan, which is used to see the patient's jawbone. Enough bone will ensure the implants to be put in place safely. On the contrary, a bone graft is performed to fill the bone in the jaw if necessary. This will slow the treatment about 6 to 8 months, after the bone heals the implants can be put into place.
Placing the dental implants is a quick and painless process thanks to local anesthesia. Although patients can request IV sedation to be asleep while the implantologist do the work. After the procedure a temporary denture made for the healing period. The healing period can go about 6 months usually but it depends on each case.
After the healing period is done, the patient come back for the permanent fixed denture finally. The denture can be made from porcelain, zirconia or acrylic. They look and feel will be just like natural teeth, look very real. After you are done take good care of your new denture by cleaning it daily just like real teeth. Best part of the procedure is that is completely painless thanks to anesthesia.
Are there other available options besides the All on 4?
In case you are working with a tight budget, maybe a different procedure is better for you. If you still want dental implants then I suggest the Snap on Denture. This one use 2 implants to support at detachable denture instead of 4. Besides you can adapt the implants in the future to get all on 4 eventually. Discuss with our dentists to know if you are eligible for that, though. Cases may vary so it is important that you plan ahead if want an allon4.
In the other hand, opter options includes all on 6 or all on 8. They are more expensive than the all on 4 and it is suggested a consultation before going for that. It is reserved for special cases as said in the beginning, using more than 4 implants per jaw can hurt the patient. However, there are patients that need more implants because their bone structure. By the way, our evaluation and consultation are FREE,
Why you should consider getting the All on 4
You can choose the all on 4 if permanent fixed denture is what you are looking for. It uses only 4 implants per arch like mentioned in the above. It is certainly the best bang for your buck and the denture cannot be taken on and off, replacing your teeth forever. This means that the patient does not have to deal with damaging and losing their denture like traditional ones or partials.
They are easy to clean too, as you only got to brush them like natural teeth. It also gives the patient an aesthetical pleasing look. The function will be intact too, you can eat, talk, even sing with your new set of teeth. The best part is that you can get awesome discounts here at Dental del Rio.
Get this dental treatment at Dental del Rio!
Getting all on 4 in the United States is almost impossible for many people. It can cost around more than $20,000 per jaw arch which is crazy, almost $40,00 for a full mouth. However, you can get it at about half of the price with the same quality in Los Algodones, Mexico just 7 miles southwest from Yuma, Arizona if you come to Dental del Rio.
Schedule your appointment simply using the contact form to receive a FREE quote and make your appointment for FREE. We will assist you in every step of the process so you can arrive to the clinic with no problem at all. To learn more about our services and Los Algodones, you can check Price List and our blog entries.
I want to make a disclaimer about cheaper dental implants in the States. Many dental clinics have been using cheap dental implants to save costs, not suited for the all on 4 to compete with Los Algodones. This is dangerous as the treatment can fail easily endangering your dental health and wasting your money. We suggest making an appointment with our professional implantologists to get the best quality in dental.
If you want to know more about dental, I invite you to check out our other articles. Feel free to contact us to schedule an appointment and ask for help to get to our clinic. We got a nice staff that works hard to bring you the best service as possible, so you can smile again sporting a beautiful smile.