Getting dental implants is not an easy choice. There is so much to consider before commenting to this dental treatment. Luckily for you, we are going to help you taking this decision with our recommendations. We are Dental del Rio, one of the top dental clinics in Los Algodones, Mexico and we are here to help. So strap on, keep reading and stay until the end to learn of to save money getting any dental treatment with us, even implants.
To start answering this question we get a lot in consultation, I want to bring out some important points. The first is that you can ask us any questions down in the comments or contacting us via email or phone. Our patient coordinator will do their best to help you and solve any question or doubt you have regarding dental implants and traveling to Los Algodones to reach our clinic. The second is that you can learn about our current staff in the Our Team tab, in case you want to see our dentists' credentials before making an appointment.
What are dental implants
Let's start from the beginning, what are dental implants? Dental implants are a procedure where the patient will substitute a tooth or many teeth with an artificial tooth anchored to an implant. This implant is a screw, usually made form titanium, drilled into de jawbone to support said tooth, bridge or even a full denture. This makes it the perfect treatment for patients who suffer from teeth loss. It gives them a new permanent smile and their confidence back.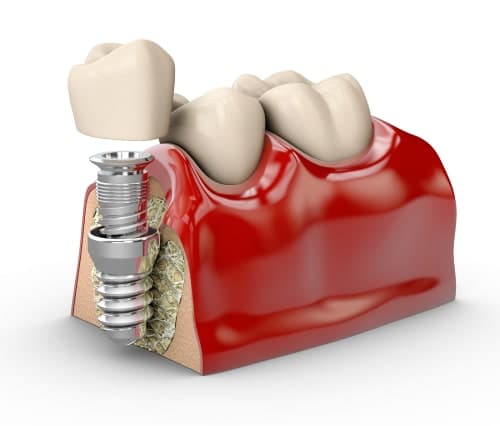 It is not a surprise that it remains one of the most popular dental treatments at our clinic and Los Algodones. Due to its lower cost compared to the US, where it can cost $20.000 USD just for one arch for a full denture, patients come to our clinic to save money. You can save 50% and more in dental implants if you choose to come to Dental de Rio.
How to make an appointment at Dental del Rio
You may be wondering by now how to make an appointment at our clinic. First you need to know that scheduling an appointment is FREE of cost and you receive FREE consultation and evaluation. What this means is that you only pay for getting actual dental treatment. You can check our prices in the Price List tab to know more about our services and rates.
To make a dental appointment you can do it through the contact form, calling or sending a SMS to the phone number above. Again, our patient coordinator will work hard to accommodate you into the schedule and assist you during the whole process. Also you can get recommendation for other services in Los Algodones like hotels, restaurants, pharmacies and more. Feel free to request anything and we will do our best to help you with that.
Do not forget we are specialist in dental implants. We cunt with the best implantologist in the country for the job, like DDS Bojorquez and DDS Barragan. They have studied abroad and go to refreshment courses all over the worlds, like Japan, Portugal and New York. You will be in very good hands and get the best dental implants in the market for an affordable price.
How many dental implants exists?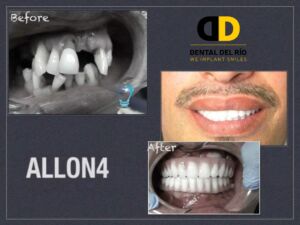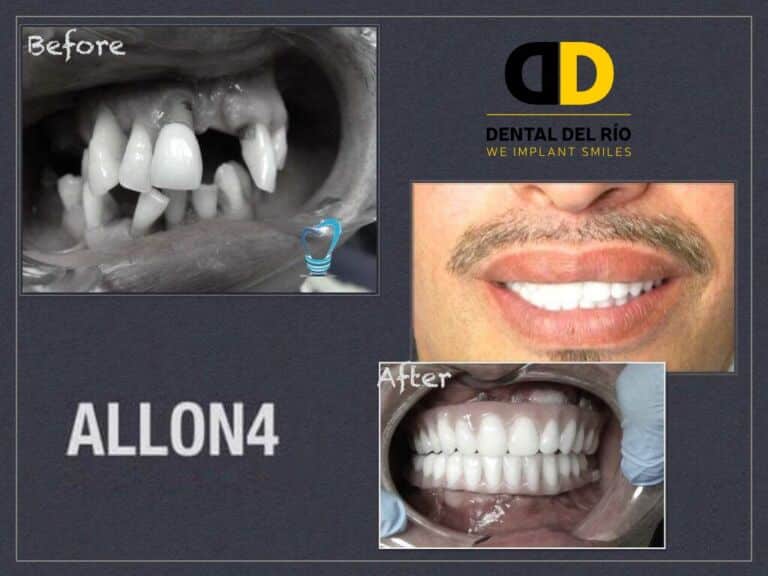 The good thing about dental implants is that they are versatile. As stated above, they can replace a single tooth, a couple of teeth or even a full denture. It will depend in your current situation and budget. Even so it is worth it to invest in any dental implant as they provide a permanent solution to tooth loss. I think the real question is which one is more convenient for you in case you need a full denture. Luckily for you, there are several options available.
The cheapest one is to go for a snap on denture which is pretty affordable. It consists on 2 implants that will support a detachable denture. With 2 implants it makes impossible to support an immovable denture, even so it will secure the detachable denture. This can be a good option for patients that are in a budget.
If you want the best dental implant treatment available, I recommend the all on 4 procedure. It consists in 4 implants that support a permanent denture. This is the best because it uses few implants for the fixed denture. It means little weight and stress for your jaw and mouth. It is really comfortable and the procedure is quick and painless. You can opt for more implants like 6 or 8 but it effectiveness will depend on your specific condition.
Consideration for dental implants
Some few recommendations that you have to take into account when choosing dental implants is your bone density. To support the implants, you need enough bone in your jaw. In case you do not have enough, then you need bone graft to gain enough bone jaw. The bad news of this is that you will need to wait to heal before coming back for your dental implants.
This brings me to my next point which is the healing period. You need time to heal from the first step of the procedure, the installation of implants. During 6 to 8 months, you will use a temporary denture. During this period, you need to follow every dentist's instruction, otherwise the procedure will fail and you will lose all progress. It is important to follow a good dental hygiene and a special diet in order to complete the healing period successfully.
After that step is done you will return for the permanent teeth or denture that will complete your smile. Going for dental implants is not that complicated of a decision, but it is imperative to wight the pros and cons for you current situation. If you ask me, it is worth it as long as you have the budget and patient to endure 6 months of waiting. After that it becomes a solid choice for patients who wish to fic their smile.