Hello my dear friends. Along the years we have written several articles on this blog about dental treatment and dental hygiene. This year we are going to mix things a bit by featuring longer articles. Let us know if you prefer this way or what topic you want to read about. Today we will start talking about dental implants.
Oh man, dental implants. There is so much ground to cover but today we will focus on basics. Dental implants are one of the most requested treatments in Los Algodones. We will see why in a bit but for starters, we will define dental implants for those patients who does not know the concept.
What are dental implants?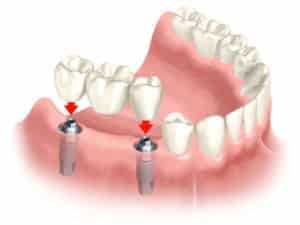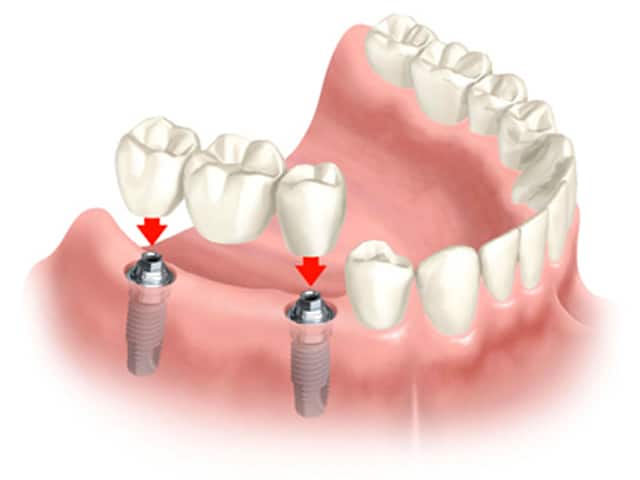 Dental implants are screws that go into the patients jawbone these screws can hold an abutment to support a crown, a bridge or a full denture. What this mean is that you can have new teeth in case you suffer from tooth loss. Keep in mind that this treatment can be a little expensive in the United State and Canada.
Luckily for you, is not the case if you come to Dental del Rio in Los Alogodones Mexico. Our prices are 50% less than the US in any dental implant treatment. Besides we have implantologist trained in the US and Europe such as DDS Barragan. To make an appointment just click on the contact form above to ask for a quotation. You can also call the phone number above in business hours. The consultation and evaluation at the clinic is FREE.
Why get dental implants?
You know what implants are, but you are wondering if you should get them or pass. Maybe another treatment is better for your case, but here is a short list on why you should get dental implants at Dental del Rio:
–The best results: you will be in good hands thanks to our staff. We are trained and have up to date equipment in the stat of art for dental implant surgery. Besides as stated above, you will be at care of the best implantologists in town.
–Best price available: also mentioned above, our prices are 50% less than the United State. But that is not the only reason, we are constantly offering deals to lower the price in your favor!
–Guarantee included: all of our implant work has 5 years of guarantee. This helps the patient to be at ease, trust in our work and solve any inconvenience in the future. We value your dental health and hard earned money.
What treatment should I get?
This is a frequently asked question among patients. Not every case is the same and some patients do need different treatment. One thing I can start saying is that one important factor is the state of your teeth. If you only have one missing tooth, then a single implant will be sufficient to complete the work.
On the other hand if several teeth are missing, then perhaps a bridge supported by 2 implants is the best way to go. For patients who needs a complete denture because they do not have any teeth left or they need to be extracted, then a snap on denture or an allon4 will be the way to go.
Am I a candidate for dental implant treatment?
This is a very important question because not every patient is ready for implants. First the implantologist has to conduct an evaluation that will determine if you can start the procedure. The most important part of this process is the CT scan, which is a 3D scan of your whole mouth. That way we can see the patient's jawbone and see if there is enough to support the implant.
If that is the case we can start installing the implant. But if that not the case then we need to do some bonegrafting to add more to the jaw. The good side of this is that every patient can get the implants. The bad news is that the patient has to wait another 6 months before coming back for the implants.
At Dental del Rio we use bonegraft from cadavers, because is natural and easy to use. It also helps with the healing period, which can go from 4 to 8 months depending on each case. The usual time is around 6 months to completely heal.
The healing period
After getting dental implants the patients get a temporary crown or denture depending on the procedure. it is important for the patient to understand that you cannot get the permanent crown or denture right away. This is because the implants drilled into the jawbone have to heal first. In the meantime they cannot support any kind of weight or force.
It is mandatory to follow every instruction given by the dentist. Your diet will change a lot because of this. You have to eat right, starting with liquids and then soft food. When the implants are definitively settled then you can go for harder food. You have to take care of you in this stage of the treatment or the implants will fail.
Like the bonegraft, the healing period of the implants is around 6 months depending on each patients. Some heal before, others take a little longer. If you follow every recommendation then surely it will take much less in your case.
Allon4 the king of implants
Among all the dental implants procedure available I have to say that the allon4 is the best one. It uses 4 implants to completely support a full denture. The results are really amazing and they can look amazing. I recommend this treatment for patients that want to get rid of dentures and partials.
Besides its success rate at Dental del Rio is close to 100%, meaning that you will have new teeth guarantee. So do not be shy and ask for an estimate using the contact form, email or call us to the number above. That its all for today, see you on the next blog! Have a nice week.