Smile through the holidays.
The holidays are now well under way. And we know all the cosmetic dentistry solutions that will get your smile ready for all the festivities.
Enhancing your smile can dramatically rejuvenate your entire appearance. Most people don't think of a smile makeover as being an alternative to plastic surgery when in fact these cosmetic dental treatments can have a profound impact on the signs of aging and on your overall appearance in general.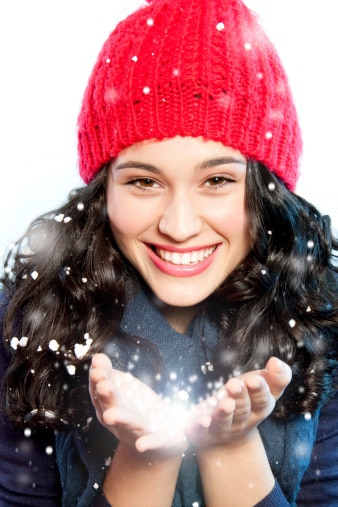 Teeth Whitening
Are your yellow teeth preventing you from laughing or smiling this holiday season? We have an answer for you that will get you flaunting those pearly whites in every holiday picture! Many dentists offer non evasive treatments and professionally-directed take-home custom whitening trays designed to maximize the brightness of your smile. These are faster and less dangerous than over the counter drugstore products.
Dental Veneers
Dental veneers are thin, shell-like pieces of tooth-colored material that can be used to quickly hide any obvious imperfections in your teeth. Fractured, chipped, misshapen, uneven, and badly discolored teeth can all be covered up by this method.
Best part they require very little preparation in order to place so you can go home with a brand new smile in just one dentist office visit!
Mercury-Free Fillings
Most dentists now use tooth-colored composite fillings to repair cavities. They directly bond the tooth-colored material to your tooth to create a strong, beautiful restoration that won't leave you with any of those dark metallic splotches in fact old fillings can also be removed and replaced.
Dental Bonding
If you have a crack or gap that needs to be filled in, we can help you by employing our cosmetic bonding techniques. Bonding works much like fillings in that a tooth-colored material is directly applied to your tooth and then shaped to create the desired result.
Gum Reshaping
A more aesthetically pleasing smile can be achieved by gently reshaping your gums. Soft-tissue lasers are used to gently sculpt your gums quickly, accurately, and painlessly. This procedure does not require stitches and does not result in bleeding.
Complete Smile Makeover
Most dentists will combine any number of our cosmetic procedures to create the smile you want.
Meanwhile here is some holiday advice. Before you go on holiday try not to embark on any large courses of treatment directly before you go on your travels. Worst thing would be for something to go wrong with your dental work while away.
But in case you still decide to get your travels underway here are things you can do while away. If you lose a filling or a have a loose crown it doesn't necessarily imply a toothache, often it can wait till you return from you holidays for it to be properly fixed at the dentist.
If a tooth or filling breaks, the tooth can be sensitive to temperature as the underlying dentine is exposed to the mouth.  It is very useful to have some desensitizing toothpaste with you, such as Colgate Sensitive Pro-Relief or Sensodyne Rapid-Relief.  Simply rubbing this on the sensitive areas and leaving it on for 10 minutes can be beneficial.  It may not be a permanent solution for removing sensitivity, but if applied a number of times, it can make eating much easier.
If you get a gum infection while away, sometimes a good thorough rinse out with warm salty water or mouthwash will soothe and disinfect things enough to help your body to heal.  This is particular affective with wisdom tooth infections.
These are just a few temporary solutions that may get you through the festivities and in the dentist's office for the New Year. We hope you have a wonderful holiday season full of laughs and good fun!