We all have heard or seen dentures at some point of our lives. Either from a relative, a cartoon or on the TV, dentures are pretty handy at what they do. Which is recovering a full smile when all or most of the teeth have been lost to decay.
Either if you are looking into dentures, or already have them, you will find useful information here. We will give you general information about them, explain why they are important and some tips for them to last.
What are they?
Dentures are custom-made teeth and gums made to replace all or most of your teeth. They are removable and work for either the top or bottom teeth of your mouth. Also, they are crafted to look just like the real deal.
As to how they work, it can be through suction and/or with help of oral adhesives. There are also dentures that use the neighboring teeth together with crowns in order to fit. Or even with a metal framework that attaches to the natural teeth. Usually it will be your dentist the one that suggest which one will be more convenient for you and why.
Why are they important?

There are several benefits for dentures. First and foremost, since they replace the teeth that no longer work, you are regaining a full smile. It is perfect for people who wish to show a full, bright smile again!
Second, they keep the structure of your mouth working and functional. Without dentures, your facial muscles naturally sag. It is through chewing and using your mouth that it keeps in such a good shape.
Third, they are not only for aesthetics, but for functionality, too. Getting all your teeth back makes you able to eat food that otherwise you would have not been able to.
Types of dentures
Essentially they boil down to two types: full and partial.
Full dentures are also known as complete dentures. They replace all of the natural teeth and are hold in place by suction or through adhesives. They are pretty simple, usually made of hard resin nowadays and colored to match the gums.
Partial dentures are used mainly when the neighboring natural teeth cannot support dental bridges due different reasons. They fit and sit in your mouth and are kept in place by the neighboring teeth. As such they are easier to take out if needed.
None of them are held in place forever. Full and partial dentures are capable of being taken out and put back on as needed without any issue.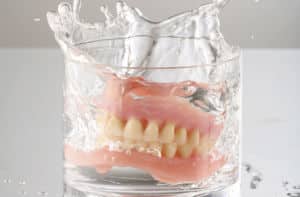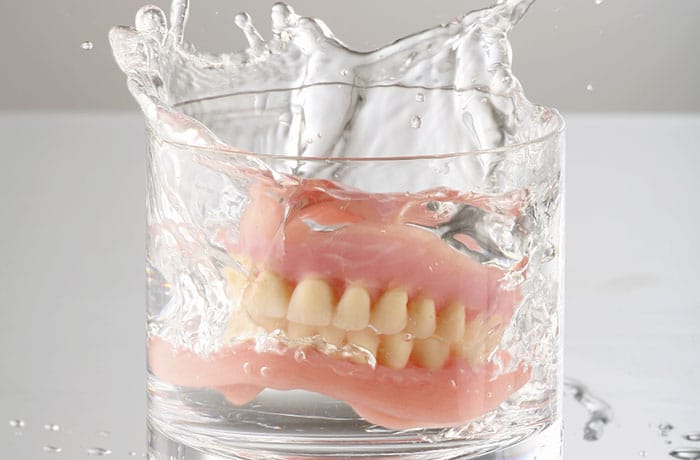 General tips
If you are new to them, keep in mind that it is normal for them to feel weird or to have the impression that they are loose. Typically this lasts for about 4 weeks. If they are indeed too loose, please feel free to contact your dentist.
It is very important they fit your mouth properly. Sometimes you will want to use some oral adhesive, but if you find yourself using it a lot, you might want to get your dentures checked ASAP. If they are loose, then they should be fixed by a dentist to avoid  further complications.
Remember that even though dentures are made of artificial teeth, you still need to brush them. Plaque, a sticky and colorless film, still forms and stain the dentures if not taken care of.
And lastly, always take the dentures off before heading to sleep, keeping them in a special solution or plain water. Unless told by your dentist, of course, though it is usually for a limited time.
We whole heartedly recommend visiting a dentist twice a year, as recommended by Los Algodones dentists. If you are interested in affordable prices together with a little trip to Mexico, you are more than welcome to contact us.