Hello! It is so nice to see you again in our humble blog. Today I want to talk about common dental problems I get asked a lot. I will teach you what you can do to solve them easily. All dental problems can be fixed, so do not despair. The best thing you can do is to attack the problem. Although if you let me give you one golden advice it is better to avoid them with prevention. For that it is obligatory that you maintain a good dental hygiene routine.
A consistent dental hygiene routine is easy to do. Some patients say it is boring but that is not true. What I suggest it to make it a daily ritual where you can do it without any interruption. I personally brush my teeth after every meal and use music in the mornings and before going to bed. Sometimes I'm in the mood for some podcast and I listen them while brushing my teeth. Do not forget to use dental floss and rinsing after brushing.
These 3 items are key in your dental hygiene routine and you cannot miss them. Cleaning every area and surface of your mouth is important to avoid dental problems. This is the best way to avoid gingivitis, dental cavities and such. In the end  cannot stress enough that you also need a good dentist in the equation. You can find the best dentists at Dental del Rio.
Common dental problems in patients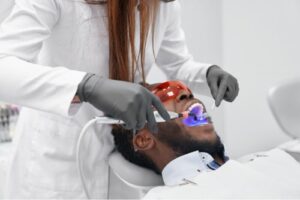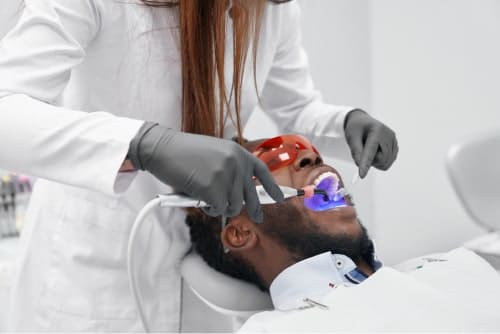 Now let's see what are the most common dental problems our patients have and how to solve them. I will offer quick easy fixes you can do at home, but keep in mind some of them can only be fixed at the dentist. Stay until the end to learn of to save money in dental thanks to our dental services in Los Algodones, Mexico.
Yellow teeth and bad breath
I put this broth dental problems in the same bag as the solution is the same. A good dental cleaning and whitening will solve yellow teeth and bad breath forever. If you want to get rid of them forever you have to practice a good dental hygiene at home as stated above. When brushing remember to be gentle and use gentle strokes to avoid damage your enamel and gums. This is a huge mistake many patients make, they brush too aggressively.
If you want to avoid yellow teeth and foul breath you need also to drink lots of water. Eating right also helps a lot, eating more fruits and vegetable. The thing is junk food have too much additives that affect your teeth and create this problem. Staying away from bad habits like alcohol and cigarettes will help you a lot avoiding these dental problems too.
Chipped teeth
Accident happens and you should not feel bad because this is a very common dental problem. Usually, patients come to the clinic to repair their chipped teeth. What you have to keep in mind that you need healthy teeth to avoid this problem, so all the above is important to apply it to have stronger teeth. Even so accident happens and luckily for you it has an easy fix. A simple filling or dental crown will cover the tooth and make it look as good as new.
Even so, there are many dental treatments that can help you. One of my favorites is dental veneers, because it is easy, cheap and looks great. It is also quick to get so you should consider it to solve this situation. It will all depend in the location of the crack and your budget. But it is amazing that you can fix your teeth with a treatment that it does not require any invasive procedure.
Teeth loss
This is the worst dental problem you can have I understand completely why so many patients feel bad about this. Missing a tooth or more affects our self-esteem. On the bright side, you have many teeth replacement treatment available. If you come to Dental del Rio you can even save money in those dental treatments. You can use a flipper, a bridge, or if you want a permanent fix, go for dental implants.
What I personally suggest is choosing dental implants. They are the most expensive treatment in the list but they are worth it. In the United States, dental implant can be impossible to get, but in Los Algodones you pay less than half for them. At least that is what we offer you in Dental del Rio, the best price in town for dental treatment such as Allon4 and Snap on Dentures.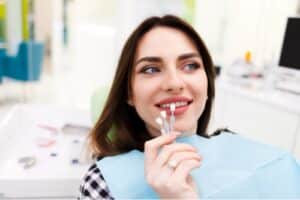 Fix dental problems and save money at the same time
You may be wondering by now how do you exactly save money going for dental in Dental del Rio. For starters, we are located in Los Algodones, Mexico. Costs here are less than the US and we are located 10 miles from Yuma Arizona. But that is not all, our dentists are prepared in the US and abroad, so you will receive the best quality in dental. You can meet them at the Our Team tab. We are approaching our busiest dates, so schedule your appointment soon.
To book your dental treatment, use the contact form above. Remember to fill it completely so we can get back with you. You can also use the phone number to call us or send a SMS. Our patient coordinator will assist you in every step of the way so you can arrive to Los Algodones. We want to make your journey as easy and comfortable as possible. If you need accommodations, we can also assist you with that, to find the best hotels nearby.
If you have more questions feel free to leave a comment below or feel free to contact us. I love to talk to you guys, so do not be shy. See you next week with a new article and stay tune for more topics about dental health and dental treatment.