Grinding your teeth together is a common affliction many patients have. It may difficult to quit but it is certainly possible to do so. After today's blog you will know how to leave it behind and work towards a beautiful smile. You must know that you need patience and a lot of will power to solve this problem. Also you will need the help of a friendly dentist and that could be us.
We will feel more than glad if you choose to come to Dental del Rio. We have a really friendly and capable staff for any dental treatment you need. Along with up to date facilities we are ready to make your smile look perfect like you always wanted. Stay tune to know how to make an appointment with us.
What is bruxism?
Bruxism is the fancy term for grinding your teeth. So when you read this word in this article we are referring to that. Grinding your teeth together can leave some devastating effects in your dental health and smile. It can ruin everything if you do not act in time. Bruxism will debilitate your teeth over time, leading to tooth loss along other consequences.
That is why it is so important that you do something about it in time. I have seen many patients over the years that have to spend thousands of dollars because of bruxism. Let's learn some of the most common causes that lead to this condition and learn to stop it in time.
Common causes of teeth grinding
One of the most common causes of teeth grinding is anxiety. Feeling anxious can make us tense along with repeating movements. Some people shake their legs, their hands, others tend to grind their teeth. Depending on how anxious you are or how many episodes you have, this conduct will repeat.  Keep in mind that that some patients even grind their teeth while sleeping too.
This is dangerous because we cannot control it. One way to deal with it is to do some exercise. Stress and anxiety can go hand to hand and relieving stress can reduce anxiety. Go for a walk every day, at least 30 minutes. You can also improve your diet so your body feels well too. Remember, taking care of your body also help with your dental hygiene.
If the reasons for anxiety are psychological, we strongly suggest reaching for professional help. You will feel a lot better and your bruxism will stop. Chances are that you are keeping a lot inside and need a time to unwind and work in yourself. You should not be ashamed of seeking help. This worked for me years ago when I grinded my teeth too.
Other common cause is misalignment in the bite. If our teeth are not align this can cause that they are constantly grinded together. In this case you will need to use braces to correct it. if you wish to save money and get top treatment for orthodontics we suggest coming to our clinic. We are Dental del Rio in Los Algodones, Mexico. To make an appointment keep reading so you learn how.
Watch what you eat
Some food can make our teeth grind together. Avoid chewing lots of food and over chewing. Also this may not be grinding, but biting into hard food also can wear down your teeth enamel. Avoid biting ice, hard candies and such if you wish to keep your teeth for a long time. This is a common habit and many patients tend to estop when it is too late. You should stop before you see signs of losing your teeth.
If you already have bruxism you have to be especially careful as your teeth are weakened. It only takes  one bad bite to chip your teeth or worse. Avoid sugar and other bad habits like smoking and alcohol. These will only make things worse. Opt for a more balanced diet and drink a glass of milk daily to start nurturing your teeth.
This will not solve your bruxism but at least it will stop most of the wearing.  What I suggest the most is to see a dentist as soon as possible before is too late. Only with a dentist you will be able to treat it properly, do not skip on this.
Seeking a dentist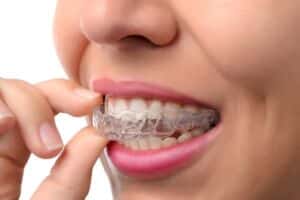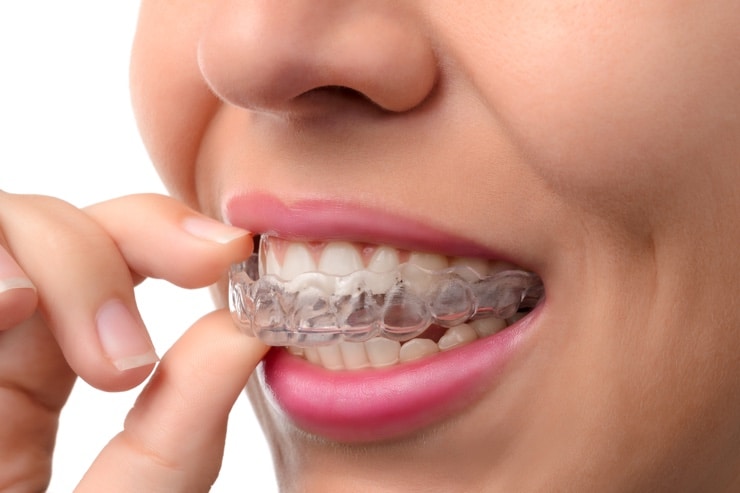 Speaking of which, that is why it is so important to see a dentist every year. Twice a year you should book an appointment for regular checkup and cleaning. Detecting early signs is important to receive treatment as soon as possible. When your teeth start to break and wear down the treatment will cost more. Usually a filling or a crown it will be enough to solve any damage.
Even so, it is important to solve the bruxism first. One of the best solutions while you work at ti is to use a mouth guard. Also known as night guard, because you use it when you sleep. This will help you to mitigate the effects of grinding your teeth together while sleeping. Remember to ask your dentist about other treatments and solutions you can opt to.
Speaking of which if you would like to be treated at our clinic in Los Algodones, Mexico and save 50% in dental keep reading the next point.
How to make an appointment
To make an appointment with use you have to simple click on the FREE quote button up top. You will receive an email with the prices and estimate cost of your case. You can also call us at the number you see above to set up an appointment. Just remember to call in business hours to reach us. Our patient coordinator will guide you through the whole process. You can chat with us via email if you wish.
Ww have many other articles on dental health and treatment so if you wish to support us, drop a comment or like, we really appreciate it. hope you learned a lot today and this article helped you how to solve bruxism. See you next week with another article!
Normal 0 21 false false false ES-VE X-NONE X-NONE /* Style Definitions */ table.MsoNormalTable {mso-style-name:"Tabla normal"; mso-tstyle-rowband-size:0; mso-tstyle-colband-size:0; mso-style-noshow:yes; mso-style-priority:99; mso-style-parent:""; mso-padding-alt:0cm 5.4pt 0cm 5.4pt; mso-para-margin-top:0cm; mso-para-margin-right:0cm; mso-para-margin-bottom:10.0pt; mso-para-margin-left:0cm; line-height:115%; mso-pagination:widow-orphan; font-size:11.0pt; font-family:"Calibri","sans-serif"; mso-ascii-font-family:Calibri; mso-ascii-theme-font:minor-latin; mso-hansi-font-family:Calibri; mso-hansi-theme-font:minor-latin; mso-bidi-font-family:"Times New Roman"; mso-bidi-theme-font:minor-bidi; mso-fareast-language:EN-US;}