Hi guys, welcome back again to our awesome blog, today we discuss dental implants. Today I will teach you how you can save money getting implants at our clinic. This is a really popular treatment here in Los Algodones because it gives the patient a permanent denture for an affordable price. You can guess it is a big deal because it can be really expensive in the States, so getting a good price for it is a huge win.
Before I start rambling, I want to know what other topics you would like to read here at our blog. Your feedback is really important for us as it helps us improve our blog. Remember you can write us through the contact form above or phone only in business hours via SMS. You can request information or set up your appointment and ask us any questions.
What are dental implants?
Dental implants are a cool treatment that consists in a screw that will support a crown. This will replace a tooth and of course the screw is implanted in the jaw. Thanks to modern dentistry, implants can be the perfect replacement for those patients who are missing a tooth or all their teeth. The best part is that it can be versatile and really affordable if you come to Dental del Rio.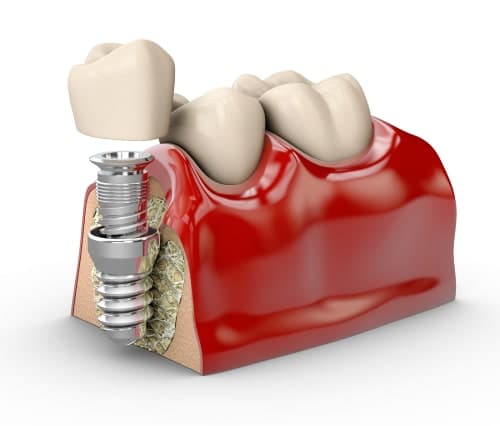 The procedure begins with an exam, the CT scan, this serve see the patient's jawbone. With enough bone the screw can be installed with no delay at all. On the other scenario, a bone graft is performed to fill the lack of bone in the jaw. This will slow the treatment six to eight months as the bonegraft has to heal before placing the screw in place.
Placing the implant is a quick painless thanks to local anesthesia and a computer. Here, patients can request IV sedation if they want to be knocked out during the process. A computer drill is used to calculate the exact place for the implants to be in place, it is very precise. After that a temporary tooth or flipper is used for the healing period.
The healing period can go between four to eight months depending on each patient. It is very important is that you follow all your dentist's instructions so the implants heal nicely. After healed, the patient is back for the permanent fixed denture finally. The final tooth can be made from porcelain, zirconia or acrylic. The look and feel will be just like natural teeth, which is fantastic. You can take care of it by cleaning it daily just like real teeth.
Different dental implants treatments
There are many options for dental implants. They are versatile and fit any patient's need as said before. You can opt for a single implant if it is just one tooth to replace. For various teeth then you can use two implants to support a bridge. You can mix and match to find the perfect set up for you. As always, consult with the dentist to decide the best course of cation for you/ if you want to replace all your teeth then the allon4 for is for you.
This popular treatment uses 4 implants to support a full fixed denture. The times of healing are the same. This is the ultimate teeth replacement technology you can get. you can save money in getting allon4 in Dental del Rio if you are interested. For ow budget I would suggest a Snap on Denture as the best next best thing.
Alternatives for dental implants
For some patients getting dental implants can be difficult for various reasons. But there exist many options available out there. You can use bridges or even partial dentures to replace missing teeth. This can offer a solution, and the best answer will depend in how many teeth you want to replace. We suggest that you our team of dentist about all the options available for you.
You can opt for a traditional denture an alternative for implants. They are so reliable because they can be costume made to fit any patient. It is cheaper but it is not permanent, the denture can be taken on and off any time. This may not be a permanent solution, but it is effective, cheaper and can last you a long time. Especially if you go for porcelain dentures.
Get discounted prices for dental implants in Los Algodones
Getting dental implants in the United States for an affordable price is nearly impossible. It can cost around $20,000 to replace your teeth which is money not everybody has at their disposal. However, you can get them for half the price with the same quality at our Dental del Rio. We are in Los Algodones, Mexico located about just 7 miles southwest from Yuma, Arizona.
Schedule an appointment by using the contact form to receive a FREE quote. We will assist you in every step of the process so you can arrive to the clinic safe and sound. You will be pleasantly surprised to learn that our dentists graduated in the United State and overseas. You can meet them in the Our Team tab above. They are ADA approved and has the highest rating in town.
I must say, beware of cheaper dental implants in the US. Many dental clinics have been promoting cheap dental implants to compete with Los Algodones. This is dangerous as the treatment can fail easily endangering your health and wasting your hard-earned money. We suggest making an appointment with professional implantologists with the right materials and permits like us.
Hope this article help you to make a decision and you choose to get dental implants with us. Remember that we have other articles dedicated to dental treatment and dental health here at our blog. You can check them out any time, and share it with friends online. I really appreciate you guys as that support us as it helps us grow ang reach more people. See you next week in the next article, bye!