Hi guys, it is a pleasure to have you back here, today let's discuss why vaping is severely bad for your dental health. It is not common knowledge that this is a really bad habit for your teeth. I have met many patients that use vapes lately and that is what motivate me to write this. I want to help you consider quit vaping as it can ruin your teeth easily.
It is important to note that you don't have to worry about the consequences of vaping as you can fix all of them here at our dental clinic, Dental del Rio. I say this because I want you to tell youa bout our amazing prices in dental. That is right, you get affordable dental treatment here in Los Algodones, Mexico. You can save more than 50% of the cost compared to the States and Canada in any dental treatment. Let's see how.
Dental del Rio is located in Molar CIty
To schedule at our dental offices in Los Algodones, I suggest use the contact form or the phone number you see above. You can ask any question you want to our patient coordinator. You will receive an email with a FREE estimate within 24 hours. After evaluating prices, availability and other important topics, you can schedule your appointment. Again, our patient coordinator will guide you every step of the way.
Also, we can help you find accommodations so you stay in the best hotels in town. Los Algodones is a picturesque town that is worth visiting besides just dental treatment. We can suggest other attractions such as restaurants and places you can go to enjoy your staying. The food and sightseeing are amazing and I really do recommend coming here a lot.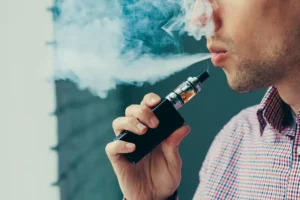 Why vaping is constantly is dangerous for your dental health
This habit alone can make you lose your teeth in the long run. There are many problems and diseases associated with this new habit that most youngster are picking up. First it leads to bad breath, stained teeth, but over time everything it get worse. The more you use them, the worse it will be the results over time. Your gums suffer a lot and can recede, this leads to tooth loss. The enamel and dentin of the teeth will corrode and will wear down, your teeth will look black and disgusting.
This also create various problems like infections that can bring periodontitis to the table. It is easy to see the beginning signs as you will experience gingivitis and bleeding when brushing. Also, your breath will be bad all the time. And trust me, it will get even worse from here.
I do not want to pass out the chance to tell you about other health concerns caused by vapers. Cancer is the main one of them as smoking can cause it in various places. Throat cancer, lung cancer, togue cancer, the same as cigarettes.  It is supposed to be a replacement to smoking and healthier because it does not use nicotine. In reality it is the same due to other chemicals.
How to solve the problems caused by vaping
Now let's see some common dental treatment that you can get to fix your teeth due to vaping. The first I want to point out is the whitening as yellow teeth is a recurrent problem. Laser whitening is a great answer for stained teeth and can leave them just like new. Now if you have problem with teeth loss or worn-down teeth, then you will need cosmetic dentistry.
One treatment that it is really effective is dental crowns. But if your teeth are not good then it is better to extract it and opt for bridges or partial dentures. It will depend mostly on your preferences and budget, but there is something for everyone. For those more complicated cases then dental implants will be the best options for tooth replacement. I suggest the allon4 treatment to get a permanent fixed denture for a great price.
I always recommend you to speak this matter to your dentist so you can choose the best treatment for you. Our dentists will always strive to save your natural teeth and save you from unnecessary extraction, keep that in mind. Remember that making an appointment with use will make you save tons of hard earned money. So do not be shy and write us to set up your appointment soon!
How to quit vaping once and for all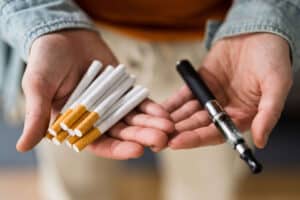 Before I end this article, I want to give you some advice to quit vaping forever. As I said before in the beginning, it is a habit that is getting more popular in patients in their 20s and 30s. This is because I have started to see some bad signs in their teeth lately. Their gums were receding, the teeth were yellow and their breath was a mess. It is sad that they are ruining their teeth so soon due to a fad that its so bad for their dental health.
I know that is not easy to quit right away so I suggest making little steps and goals to achieve in short term. Shortening the use of vapers daily will help a lot along with a good diet and exercise. Therapy is also a good option to reduce anxiety and stress, both common reasons for smokers. There are also other products that can replace this habit like gums, preferably sugarless chewing gums.
Finally, going to the dentist every 6 months for regular checkups and cleaning will help you recover your dental health to top form. Remember our dental clinics are available for you and you can save money in top of it.
If you liked this article, and have suggestions, let me know in the comments down below. Commenting and sharing online help us grow and reach more people so they can learn more about dental health and know our practice in Los Algodones, Mexico. Thank you for reading today our humble blog, hope to see you again next week.