There has been much interest in methods of preventing sports-related dental injuries. Athletes are prone to injuries, especially in their teeth. Such as fractures or displaced teeth by direct blunt force trauma. An impact in the mandible can also cause tooth damage if it crunches against the max­illary teeth.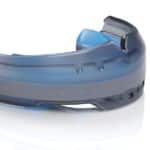 Mouth guards are the best form of protection against falls and hits. These are custom made on a stone model of the maxillary arch. There also exist pressure-laminated mouth guards which provide an excellent fit and protection. There's even a method that allows mouth guards to adapt to braces. As well as most fixed orthodontic appliances. Mouth guards
are made by
dentists in their in-office labs or by laboratories upon order.
There are also less expensive over the counter store bought mouthguards. These provide decent protection to athletes.
Although mouth guards aren't cheap some instances may merit a custom mouth guard.
But for growing children experiencing changing tooth positions due to ongoing orthodontic treatment, a custom formed device will usually not fit for an extended period of time
. Children and teens also tend to chew up their mouth guards during use, or lose them on the field or elsewhere. Continual replacements of these custom guards can be inconvenient for parents. That's why some may opt for store bought protectors.
Protectors must meet the following conditions to provide the best protection:
Should come in a sterile sealed package.
The fit should be right. It must adapt for 6-year-olds to teenagers, including those with orthodontic appliances.
It must be comfortable and not elicit gagging, as well as accommodates air exchange.
Stable enough so that it doesn't fall out of the mouth.
Made from soft, resilient material, approved for intraoral use. That absorbs impact and deflect traumatic forces directed at the teeth.
Protects both maxillary and mandibular teeth.
Can attach to a helmet, if desired, by placing a lace through a breathing vent.
Can prevent crunching of the mandibular teeth against maxillary teeth in the case of a chin blow.
Is sanitary and inexpensive so periodic replacement is affordable and practical.
Has a low risk of swallowing or aspiration of the device.
An example of a good protector is;
Tooth Shield marketed by PRACTICON patented tooth protector and impact deflector. Manufactured in the United States from a thermoplastic elastomeric. This material is also used for pacifiers and nipples for baby bottles. The design includes posterior compression pads. These compress the device inward, against the buccal surfaces of the posterior teeth. or attached orthodontic hardware. V-shaped notches in the horizontal bite plane accommodate smaller mouths. Likewise, the notches allow for expansion. By spreading the tooth shield outward to fit larger arches. The internal aspects of the lips help stabilize the protector in the anterior region. The flange can
be reduced
in height with scissors, to accommodate smaller mouths. A string can
be used
for helmet attachment as well.
Custom-fitted mouth guards are the optimal way to protect teeth from traumatic impact during sports activities
.
If you
are interested
in getting fitted for a mouth guard or have any questions about the procedure schedule an appointment with us at a convenient time for you and we will clear up any doubts to the best of our knowledge
.