Hello y friends, hope you are having an excellent week like always. Today I will tell you what are the best dental crowns you can get in Los Algodones as you may know, this beautiful town in Mexico is also known as Molar City. This is due to the huge amount of people that cross the US-Mexican border every day to receive affordable dental treatment. They can save huge sums of money by traveling that far.
I want to make your dental clinic choice easier by telling you what the best dental clinic in Los Algodones is. The answer is Dental del Rio, we got the best prices and dentist on the job. That with up to date facilities with a friendly bilingual staff. Communication won't be a problem at all and you will feel at home with the quality of our dental services. We provide from cleaning to dental implants and more, there is nothing we cannot do!
How much can you save you may ask? 50% and even more depending on the procedure you are seeking. This is a steal in my book and you should definitively consider visiting us. Consultation and evaluation is FREE, so you can come to receive an estimate with no cost at all. Now let's see how you can make an appointment. You can skip this part if you are just interesting in learning about dental crowns.
How to make an appointment at Dental del Rio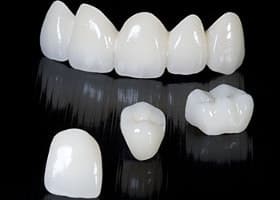 Making an appointment is really easy and quick, you got 2 options. The first one is to use the phone number above to talk directly with the patient coordinator. The next option is using the contact form in the homepage so you can receive an email with your estimate. After you solve all your questions you can schedule your appointment, as simple as that.
Also we can help you find affordable accommodations in Los Algodones. Having a nearby hotel to rest is important so you enjoy your stay in town. We also recommend and suggest places to visit, restaurants and more. So do not be shy to ask any question you want about this picturesque town. Now, I do not want to waste more time so let's learn about dental crowns. This is important to know because different materials serve different purposes.
What is the best dental crown?
Before I start my list I want to give you a definition about dental crowns in case you did not know. In short terms it is a cap that goes on the tooth and covers it completely. In order to be able to fit perfectly the dentist has to wear down the patient's tooth in question. Then the cap is glued and the patient will have a new tooth that looks and feel natural. With this out of the way let's see what the best material for your cap is.
Porcelain fused with metal
This is the cheapest material you can get, metal cap with an exterior made from porcelain. It is cost effective and does the job just fine. It has some disadvantages like the metallic lining under the crown which gives away the fact that you have a fake tooth. This may be a turn off for some patients, making it a good choice for teeth in the back. A huge advantage is that they honestly are really cost effective.
If you are in tight budget definitively consider getting this dental crown. If you possess more budget, then other options will be better by miles. Other disadvantage is that you have to be really careful as porcelain fused with metal crowns can break easier than the others mentioned in this list.
Full porcelain
The next one is a crown made from full porcelain. This is like the best option for those patients who like the middle ground. Porcelain imitates the look and feel of natural teeth, making them an excellent choice. They are resistant, look aesthetically pleasing and easy to take care. You just have to brush normally every day to keep them neat and clean. They really do look amazing and will make your smile look beautiful.
This is an option I like to suggest to my patients because I know they will get a lot of value for their money. I know they will return home happy with their dental crowns and it will last many, many years. In case you are wondering dental crowns can last 10 to 15 years with proper care, even more. So do not forget to clean them daily!
Zirconia
Last but not least we have zirconia. This is the toughest material available, hard as diamonds. This is for the patient who got more to spend and want to invest in a permanent solution for their dental crowns. Is more expensive, yes, but you will get the best of the best. Making this investment will assure you that you can sleep knowing that your teeth will look amazing forever.
If you got the budget I recommend this option with my eyes closed. The also imitates looks and feel of natural teeth nut are tougher. Just don't be irresponsible and start biting into hard things just because you can. They can also break so you do not have to overdo it.
Other options besides dental crowns
I know not every patient like dental crowns, so I want to give you honorable mentions on other options. First one we got porcelain veneers. Some patients do not like the fact that they have to let go their tooth shape to fit a dental crown. So with veneers the dentist only wear down a little bit in the front so the veneer can fit perfectly. As said above, porcelain is an excellent material to replace teeth.
On the other hand we got dental implants, which replace the tooth completely. I only suggest this option if there is no way to save the tooth or if you got only a couple left. As always, consult with the dentist before making any decision so you can know what is the best option for you.