Hello my dear readers, welcome to a new article. Dental implants are a popular option among our patients for missing teeth. Each passing day, more and more people ask us about pricing and details of the procedure. We are very glad to receive them and that is why today I will bring the answer to you. That way if you are one of those that are on the fence about getting them, this is the perfect place for you.
Speaking of which you can get dental implants for half the price compared to the United States at our clinic. We are Dental del Rio and are located in Los Algodones, Mexico. To get there you need to travel to Yuma, Arizona and then come to the Andrade border crossing. You can cross the border walking to Mexico and you will be already in town. To make an appointment I suggest using the contact form or calling the phone number above.
I suggest booking yours in advance as we tend to be pretty full. We do accept walk ins but there is a chance that we will be full because this is a busy time of the year for us. So do not be shy and schedule your appointment as soon as possible. Our patient coordinator will help you every step of the way, to make your travel as easy and confortable as possible. Even if you need accommodation we can help you find good deals in hotels near the clinic.
Why choose dental implants?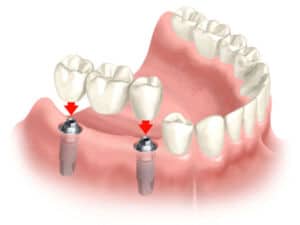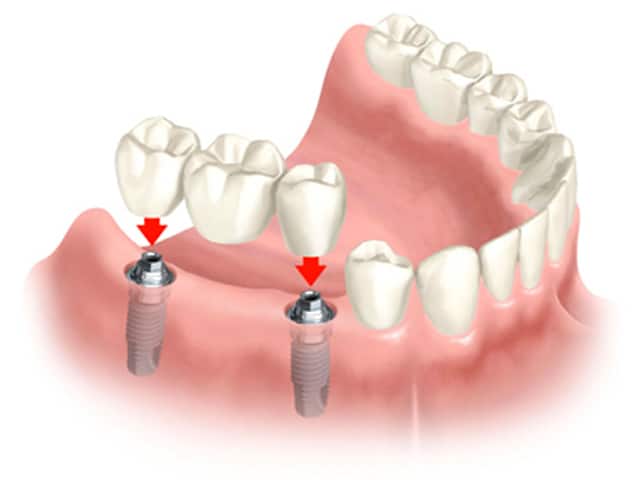 Now with today's topic we have to tell you why you should care about dental implants. Why are they getting so popular exactly? Well, the answer to this question is very simple, they are a permanent solution for missing teeth. This is so amazing because before they existed patients had to replace missing teeth with partial dentures, full dentures or dental bridges. They are detachable or they have the risk to fall off.
So implants will create a new tooth or even a full denture that won't budge. It will stay forever in place with the look and feel of natural teeth. They are so versatile and effective that they worth every penny of the investment. To be able to know if you could get the treatment you need a CT scan first. This will help us see if the patient has enough jawbone to support the dental implants. After that we can begin the treatment if there is enough.
What are dental implants?
They are basically screws that are drilled into the jawbone and they will support a permanent tooth. Two appointments are necessary to complete the procedure. The first one is where you will receive a  CT scan and the implants are settled in. In case there is not enough bone, then a bone graft is needed. This will help you get enough jaw bone to support the dental implants 6 months later after it heals.
After getting the implants a temporary tooth or denture is necessary during the healing period. This usually last 4 to 8 months depending on each patient. The normal time to heal is 6 months in case you are wondering. During the healing period it is very important that the patient follow every instruction given by the dentist. This will ensure that the procedure will be a success. If you don't then the procedure will fail.
The healing period it is important so the implants can be settled into the bone. This will make them be cemented and won't budge or move to support the new teeth. Some of the instruction includes changing diet, opting for liquids and soft food the first couple of weeks. Other important point during this period is performing a good dental hygiene to avoid infections. If you have any questions do not forget to ask them to your dentist.
Allon4 the perfect treatment
There are many options for dental implants. You can replace a single tooth, a couple of them or a full denture. That is why it makes them so versatile, because you can practically solve any dental problem with them. Among many options available there is one that stand above the rest, the allon4 treatment. This is by far the most popular treatment at our clinic and I am delighted to tell you about it.
The allon4 treatment it is a procedure that uses only 4 implants per jaw to support a full denture. In the past, 6 to 8 implants were necessary to do this, but not anymore. Using more implants means more weight and stress to the mouth, this is avoided thanks to the allon4. With 4 implants you can get a new denture of beautiful perfect teeth forever. Besides, its cost is less than the other dental implant procedures.
So if you are interested in getting an Allon4 schedule your appointment with us. We have up to date facilities along with a friendly bilingual staff and the best dentists in Los Algodones. You can check our reviews and before and after pictures.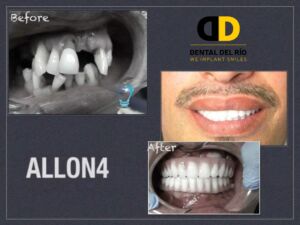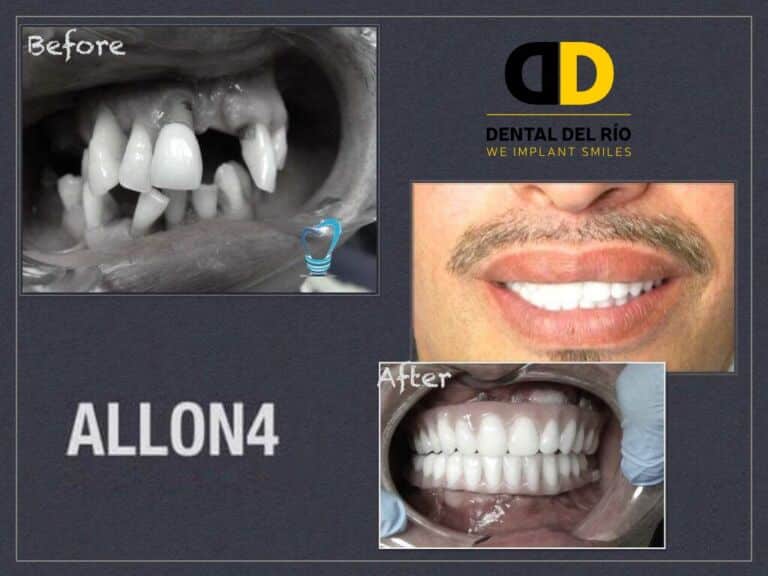 Enough dental implants for today
That is all for today my dear readers. If you wish to read more articles about dental hygiene and dental treatment, check our other entries. Also, you can let us know down in the comments your suggestions. We love hearing from you guys, it help us see what you are interested in. If you could share our content it will help us grow and reach more people. This will help us bring you the best content and offers regarding dental.
See you next week in the next article and do not forget to take good care of our teeth. Before leaving I want to remind you that you are in time to schedule your appointment in Dental del Rio. Do not miss the chance to save money in dental treatment, you are looking at 50% in savings, it could be even more!  Even in dental implants treatment, by the way it is our in house specialty thanks to our implantologists.