The Snap on Denture dental implant treatment is often overlooked by patients. This is an underrated procedure both in the States and Los Algodones because it is overshadowed by other implants procedure. But, did you know it gives the patient a detachable denture fixed in dental implants? It can be a really nice option for patients in a tight budget. Not everyone can afford an expensive treatment.
But before we start today's topic, let me know what other themes you would like to read in our blog. I like to read your comments guys and improve our content thanks to your feedback, it help us grow and reach more people. Remember you can contact us through the contact form above or phone (only in business hours) to ask any questions or make your appointment as soon as possible at Dental del Rio.
What's the Snap on Denture?
The Snap on Denture procedure consists in implanting 2 screws per jaw will support a full denture. What this mean is that you can forget about partial and traditional dentures as you can replace all your teeth with it. Thanks to modern dentistry, implants can be the perfect replacement for those patients who are missing a tooth or all their teeth. The best part is that is really budget friendly.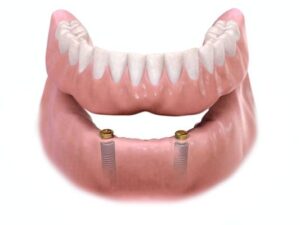 All begins with the CT scan, which is used to see the patient's jawbone. Enough bone will ensure the implants to be put in place safely. On the contrary, a bone graft is performed to fill the bone in the jaw if necessary. This will slow the treatment 6 to 8 months, sure, but after it heals the implants can be put in place.
Placing the implants is a quick and painless process thanks to local anesthesia. Patient can request IV sedation if he or she wishes. After the procedure a temporary denture made for the healing period. The healing period can go between 4 to 8 months depending on each case. What's important is that you follow all your dentist's instructions so the implants heal nicely.
After the healing period tis done, you come back for the permanent fixed denture finally. The denture can be made from porcelain, zirconia or acrylic. They look and feel will be just like natural teeth, look very real. After you are done take good care of your new denture by cleaning it daily just like real teeth.
Other options besides the Snap on Denture
In case you have more resources you may be interested instead in the All on 4 or All on 6. The difference is that one uses 4 implants and the other 6 implants instead of 2 per jaw of the snap on denture. This offer more sustain but adds more weight and stress to your jaw. Which one is more optimal for you will depend on many things. Bone density, muscle, lifestyle, dental hygiene and health are some of the factors. The dentist will have the final word on this matter.
Nevertheless, in most cases it won't be necessary to use more than 4 implants per arch. 4 titanium implants are enough to support a porcelain denture. Putting more weight in the jaw can be detrimental in the long run. We recommend consulting with your dentist and doing every exam needed in order to decide the best course of action.
Remember that Allon4 offer a permanent fixed denture. Snap on dentures is a budget option, if you wish permanent fixed teeth, go with the Allon4 or Allon6.
Why the Snap on Denture may be the best choice
For some patients getting an Allon4 can be impossible for several reasons. Luckily there are many of options available. You can replace missing teeth with bridges or even partial dentures. This can offer a solution, that even if it is not permanent it looks aesthetically pleasing if that is your concern.
You can choose snap on denture instead of  any of the permanent fixed denture like the All on 4,. It uses only 2 implants per arch and a snap on denture, as mentioned in the begging. It is cheaper indeed and the denture can be taken on and off any time. This means that the patient does not have to deal with weight, that can be recomforting. In the future you can adapt those implants if you go for an all on 4, saving money in the process if you wish.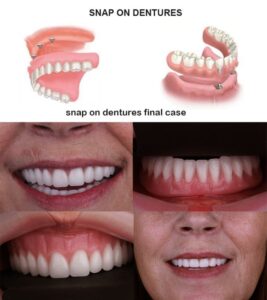 Get dental treatment at Dental del Rio for the best price
Getting dental implants in the United States is a titanic task. It can cost around $20,000 or so per jaw arch which is a sum of money not everybody can pay, almost $40,00 for a full mouth. However, you can get it at half of the price with the same quality in Dental del Rio at Los Algodones, Mexico just 10 miles southwest from Yuma, Arizona.
Make an appointment simply using the contact form to receive a FREE quote and make your appointment for FREE. We will assist you in every step of the process so you can arrive to the clinic with no problem at all. To learn more about our services you can click Our Team and Price List tabs.
However, I want to warn you about cheaper dental implants in the States. Many dental clinics have been using cheap dental implants not suited for the all on 4 to compete with Los Algodones. This is dangerous as the treatment can fail easily endangering your health and wasting your money. We suggest making an appointment with our professional implantologists to get the ebst quality in dental.
If you really want to know more about dental procedure and dental health, I invite you to check out our blog. And if you made up your mind and want direct information on how to set up an appointment feel free to contact us. We got nice deals for all of our patients.You will get FREE evaluation and consultation at the dental  clinic.