Dental veneers can make a beautiful smile that will make a big difference in your confidence and overall appearance. If you're unhappy with the color, shape, or size of your teeth,this dental treatments may be a good option for you. You can get it at an amazing price compared to the US and Canada here at Dental del Rio. We have more than 7 years of expierence in Los Algodones, Mexico, counting with the best proffesional dentists in town. Our facilities are up to date, following US standards.
So you can expect top quality dental treatment for half the price at home. You can also request any other services like transportation and accomodations to our patient coordinator, we will be glad to assist you. So keep in mind every question you may have when you are setting up your dental appointment so we can help you in time.
Regardless, we are here to talk abput veneers today. By the way f you wish to read more about dental health and dental treatment keep an eye in pur blog. We have tons of articles dedicated to these topics so more people can learn about how to take care of their beautiful smiles and find affordable dental treatment in Los Algodones.
What are dental veneers?
Dental veneers are thin, custom-made shells that are bonded to the front of your teeth. They can be used to improve the appearance of your teeth in a number of ways, including:
Changing the color of your teeth
Closing gaps between teeth
Straightening crooked teeth
Repairing chipped or broken teeth
Restoring the shape of your teeth
they work like a mask that will give your teeth a good looking and aesthetically pleasing sight, besides functioning just like antural teeth. this is a really common procedure that celebrities get to make their teeth look amazing. That is why it is so popular and you can get a good price here at Dental del Rio.
Now some frequently asqued questions about this treatment
How are they made?
The first step in getting dental veneers is to have a consultation with your dentist. They will examine your teeth and discuss your desired outcome. Once you and your dentist have agreed on a plan, the veneers will be created in a dental laboratory.
The veneers are made from a variety of materials, including porcelain, composite resin, or a combination of the two. Porcelain veneers are the most popular type because they are the most natural-looking. Composite resin veneers are less expensive, but they are not as durable. That is why we strongly suggest to choose porcelain or zirconia for veneers, they are affordable here and last a long time.
How are they bonded to the teeth?
Once the veneers are created, they will be bonded to your teeth using a special adhesive. This process is done in one or two visits to your dentist.
How long do they last?
Dental veneers can last for many years if they are properly cared for. However, they can chip or crack if you grind your teeth or clench your jaw. with proper care they can last 15 years or so if you get them in porcelain or zirconia.
Is this the right treatment for me?
Dental veneers are a good option for people who are unhappy with the appearance of their teeth and want a long-lasting solution. However, they are not a good option for people who have gum disease or severe tooth decay. So always request a consultation and evaluation before getting them.
If you're considering getting dental veneers, be sure to talk to your dentist about the risks and benefits of this procedure.
Here are some of the benefits of getting dental veneers:
They can improve the appearance of your teeth in a number of ways.
They are a long-lasting solution.
They are relatively comfortable to wear.
They can make you feel more confident about your smile.
Here are some of the risks associated with getting dental veneers:
They can be expensive.
They can chip or crack if you grind your teeth or clench your jaw.
They may require some tooth preparation.
They are not a permanent solution.
If you're considering getting dental veneers, be sure to weigh the benefits and risks carefully. Talk to your dentist about what is best for you. It is important to weight rpos and cons to make the best decision in each case.
Here are some tips for taking care of your pieces: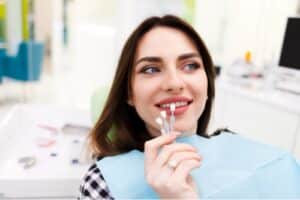 Brush your teeth twice a day and floss once a day.
Avoid chewing on hard objects.
Get regular dental checkups and cleanings.
If you have any concerns about your veneers, be sure to see your dentist right away.
With proper care, your dental veneers can last for many years and give you the beautiful smile you've always wanted. So if you are really interesting in geeting it and save money in the process, come to Dental del Rio in Los Algodones, Mexico. Also known as Molar City, this is the perfect place to get dental if you come from the US and Canada.
How to make an appointment at Dental del Rio
Making an appointment with our top team of dentist is really easy and simple. We have a contact form you can access with a single click. There, you can send an inquiry to our patient coordination and we will be abck with you via email. Remember putting all the info necessary for us to contact you back. Afterwards you can ask any question before setting up your appointment and that is it.
Also if you wish, you can also contact our services via the phone number above too. Some patients like a more direct contact with us or have urgent sitiuations they need to fix as soon as possible, we respect that. Just remember to be respectful and that we are here to help you get the smile you deserve. We take you dental health very seriously so you are in the right hands, we would love to be your dentists of choice in Mexico.